Go back to the lecture archive top page is here.
Or you can access the lecture archive top page from NAIST Digital Library via Digitization.

1-1. Outline

The Digital Library of NAIST is undertaking a project to archive lectures in the Digital Library System and make them available over the network for effective use in postgraduate-level research and education.

1-2. Video Recording

Your lectures and presentation materials, such as PowerPoint files, PDF files, etc. will be recorded as a video movie.

If you want to edit out parts of the movie, please let us know.

During the lectures, use a microphone to record your voice. For question and answer sessions, hand the microphone to questioner or repeat question after hearing it.

If output sound is too loud, you can adjust the volume. (Graduate School of Information Science only.)

How to adujust the volume or set sub-projector, please refer

Notes on Recording

.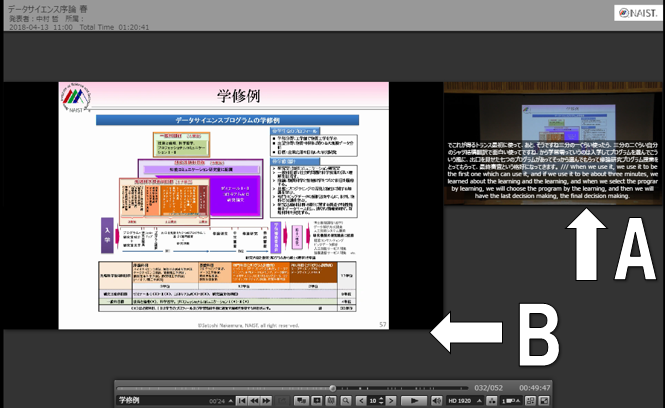 (A)Lecture
(B)Presentation Materials
You can change sizes of A and B, and also choose only A or B in full-screen.
When A is in full-screen, the slide contents are readable.
1-3. Target lectures
We will cover the lecture of Master's courses except exercises. Prior to record, a permission of the lecturer is required.
Also, some of special lectures or seminars with lecturer's permission are coverd in this system.
1-4. Target rooms
The lecture archive system covers following eight rooms;
  Large lecture room (L1) in Information Science
  Middle lecture room (L2) in Information Science
  Middle lecture room (L3) in Information Science
  Large lecture romm in Biological Sciences (BS-L1)
  Large lecture room in Materials Science (MS-L1)
  Millennium Hall
  Kenshu Hall
  Multimedia Hall in Library
 We will send a permission form regarding the lecture in the eight rooms, except for exercise style.
If you have lecture in other rooms but would like to record and release it on Library website, please let us know prior to the lecture.

1-5. Editing
The lecture archive system automatically create a table of contens and librarians edit it using
the lecture edit system.
(MANDARA ID is required to login.)
Also, a lecturer or teaching assistant (TA) is able to edit it. (To register a TA, please refer 3-1.)
1-6. Information Access and availability
Two types of information retrieval systems will be established to offer access to the movies:
  one for public use via the Internet and the other for NAIST faculty, staff, and students only.
Please choose it on the permission form. You can also choose the type of contents as only presentation materials.
1-7. How to watch
The movies are available using Adobe Flash Player for a PC and HTTP Live Streaming for a smartphone.
On a smartphone, only a lecture movie is available.
1-8. Access statistics
The lecture edit system
is also able to output an access statistics on the Digital Library Website.
Login the system with your MANDARA ID and choose a lecture. Clicking the button 「視聴履歴出力」, an access statistics csv file will be downloaded.