3-1 Library portal
Library Portal is a website designed to be customized by individual internal users, allowing access to various online services and contents of the NAIST Library.
You can log into Library Portal by entering the ID and password of the institute-wide information network system (MANDARA system) on the top page of the library website.
Apply for library services and view necessary information on the screen. For detailed information, please refer Services available to internal users only.
Logging into the Library Portal by entering your ID and passwo rd of MANDARA system.
Screen that appears following the login
3-2 Library materials Search (OPAC: Online Public Access Catalog)
All users can search materials in the collection of NAIST via the Library website.
(Brief search)
A brief search is used for searching items by keyword, without specifying individual search parameters.
(Detailed search)
A detailed search enables you to search for necessary information effectively by specifying individual search parameters such as title, editor, author, subject, and publisher.

In both options, you can expand the search scope to full texts. The system will locate materials that contain the specified keywords from digitized tables of contents and texts, as well as the titles and authors of books and journals.Searching the texts of "Papers" and "Thesis, Reports, Handouts" takes longer.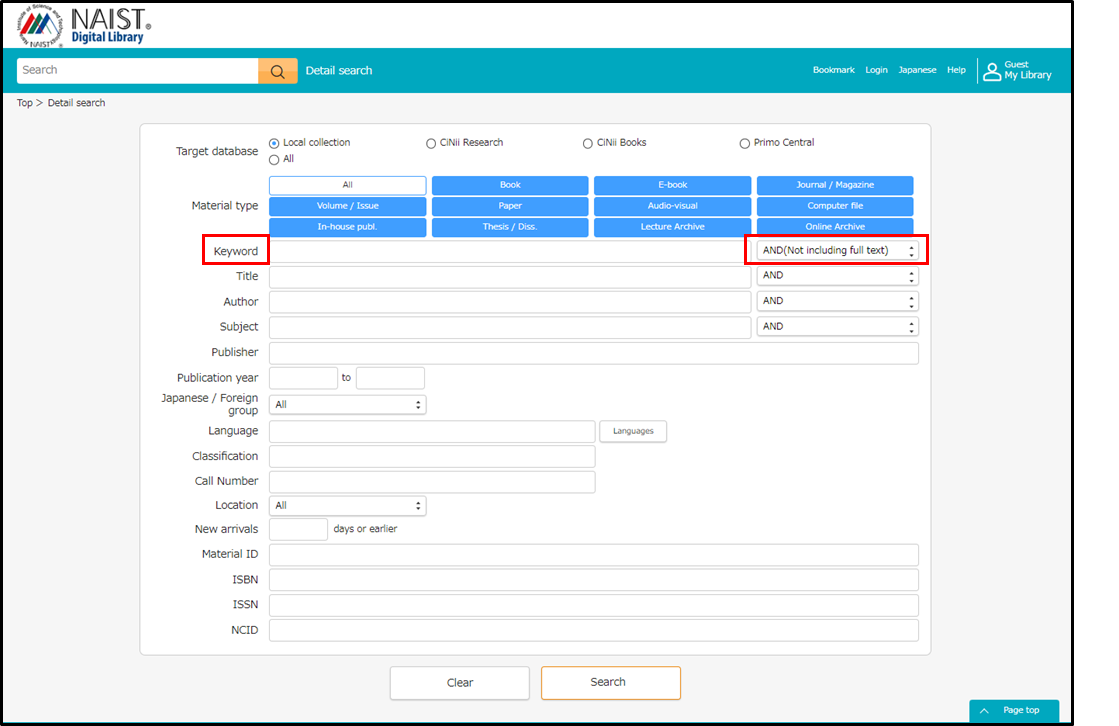 ● Scope of search
| | |
| --- | --- |
| Books(CD-ROM,DVD) | Books, CD-ROMs and DVDs |
| Journals | Serial publications |
| Issue titles | Feature topics contained in special issues of journals |
| Papers | Papers and articles contained in digitized information (books and journals, excluding electronic journals) |
| Theses, Reports, Handouts | Theses, reports on Grant-in-Aid for Scientific Research, technical reports, course materials and records of lectures. |
| Videos | Videos of class lectures and special lectures (including the lecture archive) |
If the title you want to search for consists of only one word, enclose the word with slashes (/). Example: /cell/
When searching a journal, the system ignores the year of publication even if specified.
● Screen showing information about searched materials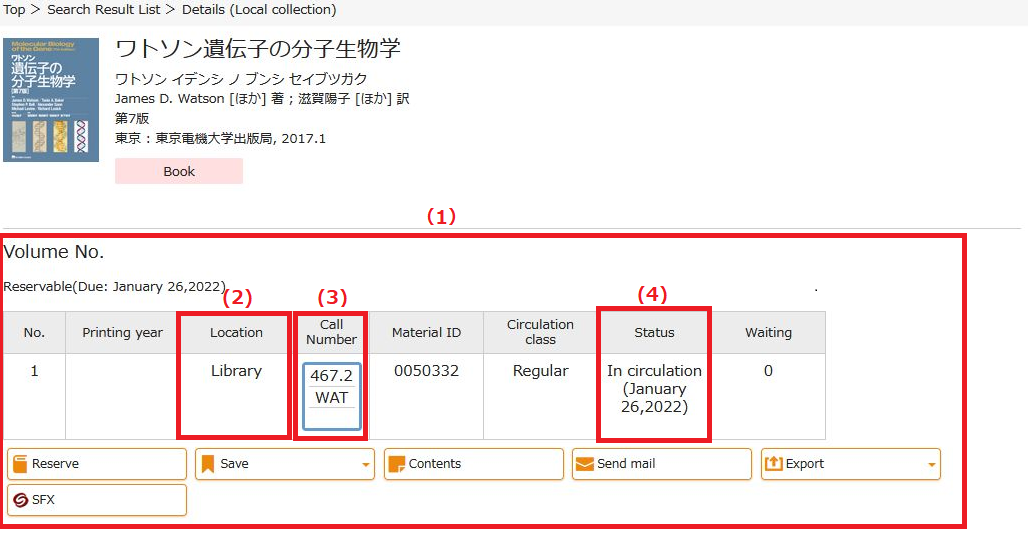 (1)Volume
Digitized materials appear as an icon in the volume column. You can view these materials by clicking on the corresponding icon. Padlock icon indicates limited on the internal use.
To access the digitized materials for internal use only, you must submit a written pledge and enter your MANDARA system ID and password issued by the Information Initiative Center, in the designated boxes.
You do not need to enter the user ID and password if you have already logged into the Library Portal.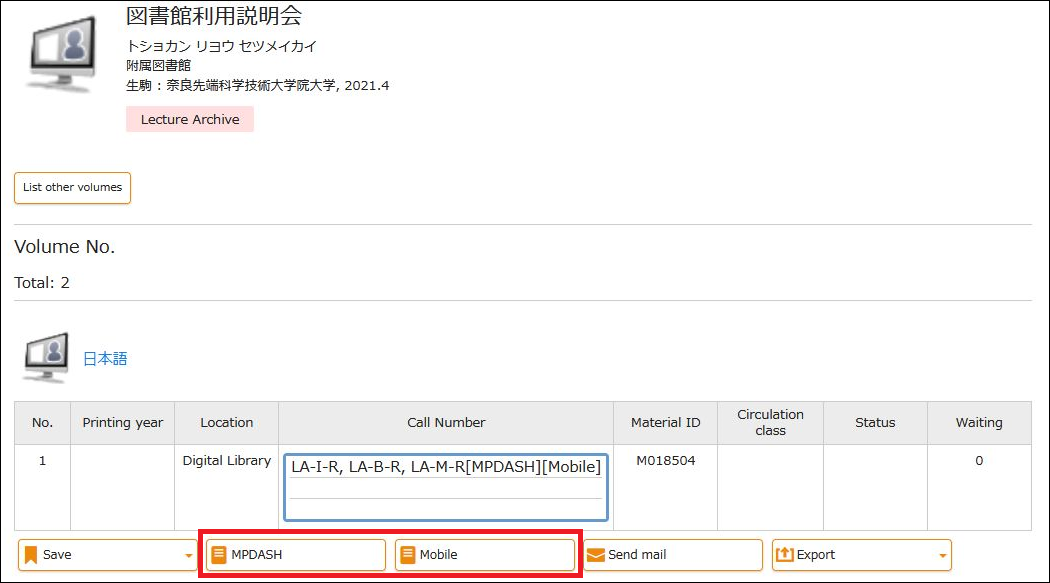 The following applications are necessary to view digitized materials.
(2)Material Location
Material Location
Where to find them
Library
In the reading area of the NAIST Library.
Library (Language)
Language study section in the reading area
Library (PBK pocket ed.)
Paperback Pocket edition section in the reading area
Library (Information Science)
Information science section in the reading area
Library (Reference)
Reference books section in the reading area
Library (Okuno Memorial Collection)
Okuno Memorial Collection section in the reading area
Library (Chi-no-Mori Selection)
Chi-no-Mori book selection in the reading area
Library (Travel)
Travel section in the reading area
Library (Cooperative)
In the reading area of the NAIST Library but separate from other materials.(Ask a staff)
Library (Audio Visual)
Ask a staff to use.
Library (Audio Visual2)
Ask a staff to use.
Library Office
Ask a staff to use.
Library (Stack)
In the stack room. Ask a staff to bring materials.
Multimedia Lounge
In the Multimedia Lounge
Lab name
Materials located in NAIST labs.
(3)Call Number
Books in the Library can be searched by using a "call number", which consists of a classification number assigned to each book according to the subject, combined with the author's name. For example, a book titled Mollecular biology of the gene by James D. Watson is assigned the call number "467.2||WAT." The number "467.2" indicates that the contents of the book are categorized in the "experimental genetics, genes" field. The call number is written on the spine of each book.
Special code that constitutes a call number
R
Reference books for use only in the NAIST Library, newspapers, CD-ROMs :

NOT FOR LOAN

KAKENB
Separately placed reports on Grant-in-Aid for Scientific Research (NAIST faculty serve as representatives)
Y
Books for office use (Ask at the Service desk.)
Z
Materials treated as journals (including annual reviews) :

NOT FOR LOAN
(4)Status

When the indication "In circulation (due date)" appears, it means the book you are searching for is out on loan. Please wait for the book to be returned. The book may be reserved by clicking the reserve button. If you find that the book is overdue, please let staff know: a reminder will be sent to the borrower.

3-3 CiNii Books
CiNii Books, offered by the National Institute of Informatics (NII), is a service that enables searching of information on books and jouranls that are held in university libraries and Japan.


Webcat Plus is for searching Japanese books and materials

Webcat Plus, offered by NII, collects information contained in Japanese books published from the Edo period to present. It can locate the book you need from a huge amount of information by using an associative search method, which is similar to the human thought process.

3-4 National Diet Library Online Search and Request Service(NDL Online)
NDL Online enables you to search for books, periodicals, electronic resources, Japanese and Chinese classics, and doctoral dessertations contained in the National Diet Library.
NDL Online (https://ndlonline.ndl.go.jp/)
National Diet Library Kansai (Address: Seikadai, Seika-cho, Soraku-gun, Kyoto) collects reference books, government-issued publications, Japanese books and Japanese and foreign periodicals, and scientific and technical materials, focusing on materials related to Asia. Anyone who is 18 years or older can enter the reading room and use the library materials, though they are not available for loan. Note that the National Diet Library Kansai does not hold classic (original) materials, foreign government-issued materials, legislation and parliamentary materials, past issues of telephone directories, residential maps, children's books, musical scores, and Braille materials.

By completing user registration, you can request photocopies of the library s materials via the Internet (copied materials can be mailed to you), and reserve books for reading in the library. For more details, please refer to the website of the National Diet Library: http://www.ndl.go.jp/en/index.html

3-5 National Diet Library Digital Collections
The NDL Digital Collections enables a user to search and view a variety of digital materials collected and stored by the National Diet Library of Japan. To view and copy materials which are not open on the NDL homepage in public is available only at the NDL and the partner libraries-NAIST by requested for internal users. Please apply for those services at the Service desk during weekdays (9:00-12:00,13:00-17:00)
Applications: to view / to copy
For more details about the National Diet Library Digital Collections: https://dl.ndl.go.jp/en/intro.html#idx2-1

3-6 Nara Prefectural Library and Information Center
This online public access catalog enable you to search books and periodicals contained in the Nara Prefectural Library and information Center.
Borrowing from Nara Prefectural Library and Information Center is free.
For more information, please visit 3-15 Request for loan.
University officials or those who work or live in the Takayama area of Ikoma City can return materials borrowed directly or by mail from the Nara Prefectural Library and information Center. Please fill in "奈良県立図書情報館資料遠隔地返却票" and hand it and books directly to the staff at the library counter. (Service hours: weekdays 9:00-12:00, 13:00-17:00)
About Remote return service : https://www.library.pref.nara.jp/guide/info/enkaku [jpn]
About Takayama area of Ikoma City : https://www.city.ikoma.lg.jp/0000001518.html [jpn]

3-7 NAIST's digitized materials
Before using NAIST's digitized materials, you are required to submit a written pledge at the Service desk to abide by copyright laws. Once you have submitted the written pledge, as an internal user you can access materials digitized by NAIST around the clock from anywhere. (Digitized materials marked with the "FREE" icon can be viewed by all users, both internal and external.) If you violate the pledge, disciplinary measures may be taken.


3-8 Online books
These are books digitized and offered online by publishers. Basically, all online books are available on-campus, some of them are also available from off campus via Shibboleth authentication.

3-9 Online journals
A list of journals digitized and offered by publishers is available to view on the screen at NAIST. Basically, all online journals are available on-campus, some of them are also available from off campus via Shibboleth authentication.
Access to these online books and journals assumes compliance with the requirements imposed by respective publishers. In general, the following actions are prohibited by publishers:
Systematic or automatic downloading
Other use beyond personal
Reproduction or redistributing of full text files

If a user has violated any of the above restrictions, NAIST may be penalized, such as access restriction. For this reason, only those who will comply with the above requirements are allowed to use the online materials.

Major accessible online journals
(as of December 2022)
Number of titles
ACS (American Chemical Society) Publications

66

ACM (Association for Computing Machinery

114

APS (American Physical Society)

11

IEEE-CSDL (IEEE-Computer Society)

42

Nature Publishing

17

Oxford Journals (Oxford University Press)

238

ScienceDirect (Elsevier)

1,509

Wiley ONLINE LIBRARY (Wiley)

845
3-10 Online dictionary
The online dictionary is available on/off campus via Shibboleth Authentication.
Kenkyusha Online Dictionary(KOD)
 This online dictionary search service is provided by Kenkyusha. A total of 20 dictionaries, including Japanese-English and English-Japanese, is accessible.
3-11 Database
The following database are available from anywhere in NAIST or outside via Shibboleth Authentification.
Web of Science (natural science fields in general, including biology, chemistry, materials science, medicine, and computer science)
This is a comprehensive search platform for academic information, and includes a citation database (Web of Science Core Collection), a journal evaluation, a journal paper evaluation and analysis tool (Journal Highly Cited Data)(until the end of March 2023).
Article search service in Nikkei BP
This is an online search service for an article published by the Nikkei Business and for a press release of a company and public office.(In Japanese only)
There is a limit on the number of articles displayed in a year.
The following free databases are available via Internet.

3-12 naistar (Academic Repository)
naistar (Academic Repository) is a collection of digital academic research materials produced at NAIST for public viewing via internet free of charge.
naistar
About Nara Institute of Science and Technology Open Access Policy

---
※The following services are available only for internal users only.
Please log in to the Library Portal for these services.
3-13 Materials on loan
The number of library materials you have checked out and related information are shown on the screen. You can extend the loan period twice if is before the deadline and not reserved.
Jump to your "Materials on loan"

3-14 Reserved materials
The library materials you have reserved and related information are shown on the screen.
Jump to your "Reserved Materials"

3-15 Photocopy request
If the materials you need are not available, the NAIST Library can request a copy of the materials from the library of another university or institution.

You are required to pay photocopying and postage fee.

Photocopy request

3-16 Loan request
If the materials you need are not at the NAIST Library, the library can request the materials from the library of another university or institution.

You are required to pay the cost of having the materials sent to NAIST and returned to the university or institution.


Bollowing materials from the Nara Prefectural Library and Information Center is free.
To Request for loan

3-17 Order books for Lab use (faculty members only)
NAIST's faculty members may order books using NAIST's budget, external funds (including the Grant-in-Aid for Scientific Research and funds for contracted research) and donations.
Order books for Lab use

3-18 Request books for the library
NAIST faculty, staff, and students may request books for student use.
Request books for the library

---
Other internal services
3-19 Notification of new library materials arrival
By registering keywords associated with your research theme and your e-mail address, you will be notified, by e-mail, of the arrival of new library materials that contain the registered keywords when new data (title, subject, table of contents, and text) is added to the NAIST Library s database.(You need to complete the login.)
Notification of new library materials arrival
3-20 Thesis/dissertation PDF submission system
This system is for submitting masters and doctoral thesis/dissertation that have passed the final examination to the NAIST Library's database for public viewing.
Go to Thesis PDF Submission System